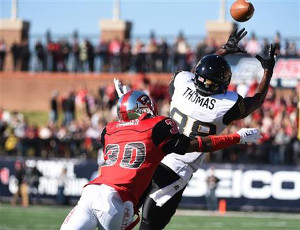 Ruolo: Wide Receiver College: Southern Miss – Classe: Senior
Età: 21 – Altezza: 6'1 (186 cm) – Peso: 193 (873 kg)
PLAYER OVERVIEW
College football's "other" Michael Thomas (not to be confused with the Ohio State pass-catcher), the Southern Miss wideout has been a consistent playmaker for the Golden Eagles this season with 62 catches, 1,201 receiving yards and 12 scores, including at least one touchdown in the final nine games the regular season.
STRENGTHS WEAKNESSES
STRENGTHS: Easy acceleration off the line and plant-and-go burst in his breaks, selling patterns with timing and creating separation at the stem. He has quick hands to snare without breaking stride.
WEAKNESSES: Needs to be more aggressive at the catch point and his pipe-cleaner frame will be the main question mark regarding his NFL future.
IN OUR VIEW: Thomas isn't a well-known prospect, but he is a player worthy of late-round draft consideration. Thomas will be joining Reed at the NFLPA Bowl and it isn't difficult to understand why scouts are intrigued by former JUCO transfer who set school record with 1,201 receiving yards over the regular season.
Thomas possesses very good initial quickness to slip past press coverage and get vertical and flashes the hand-eye coordination to make the spectacular grab. To stick in the NFL, however, he needs to show greater focus, too often dropping passes when he senses oncoming defenders.