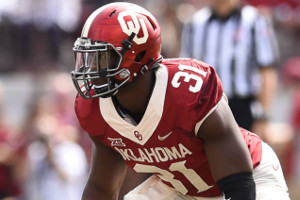 Ogbonnia "Obo" Okoronkwo (pronounced o-BO-ny-uh o-kor-RON-kwo) was the son of Nigerian immigrants, and a defensive end recruit from Houston Alief Taylor High School before going to Oklahoma. He redshirted in 2013, then played in 11 games as a reserve, making eight tackles, three for loss, and two sacks. Okoronkwo lined up for the first nine games in 2015 (nine tackles, two sacks) before being sat down as an internal discipline. He got his chance to attack the quarterback in 2016, earning a second-team All-Big
12 selection as a junior, making 67 tackles, 12 for loss, nine sacks, three pass break-ups, and two forced fumbles. Sooners coaches sent him into the backfield again in 2017, and he shared the Big 12 Defensive Player of the Year award with Texas linebacker Malik Jefferson. Obo posted 76 tackles, a team-high 17.5 for loss and eight sacks, as well as two pass break-ups and three forced fumbles. He was also named second-team All-American with Jefferson by the Associated Press for his efforts.
Overview
Okoronkwo doesn't possess the height, weight and length teams usually want on the edge and he doesn't have the bend or athletic traits to supersede his deficiencies. With that said, he's solidly built and plays with good aggression and motor. He lacks the physical and athletic traits that would make him a more dangerous NFL rusher, but he flashes some explosiveness and has enough room for improvement that he should develop into a solid NFL backup with eventual starter potential.
Strengths
Compact build with thick shoulders and well-built legs
Flashes NFL power when it's time to lock horns
Gets off ball and up the field with some juice
Attacks the pocket with natural instincts as a rusher
Uses hesitation moves, changes pace and alters his path to the quarterback
Leg drive and leverage allow him to play through soft edges at top of his rush and attack pocket from flat angle
Looks to play under the block if tackle over-sets
Lauded for growth and maturity since first coming into the program
Plays with decent strength at the point of attack
Posted impressive tackle numbers thanks to quick disengage and finish
Able to accelerate to the flanks to help run down the ball
Weaknesses
Lacks the length teams will look for from a full-time 3-4 OLB
Needs to improve technique and consistency setting edge
Needs faster punch to prevent edge blockers from owning his frame
Gets flattened out by quality run blockers
Doesn't take a stand early on
Tight-hipped, face up rusher
Beat inferior Big 12 tackles with power and effort over athletic traits as rusher
First rush step is a false step
Counter moves get thwarted when he's too tall
Needs to work on becoming more slippery as a rusher
More violent than skilled with hands
Lacks experience in coverage and will get lost at times
Lance Zierlein (NFL.COM)