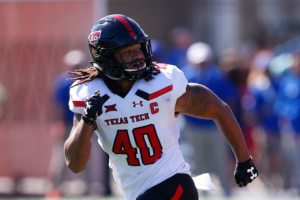 Overview
Allen is an inside linebacker with good toughness and intangibles but lacks the speed and instincts teams look for in the middle. He plays with good short-area quickness and a willingness to stick his nose into oncoming traffic in order to leverage his gap and set his teammates up for success. With adequate athleticism and the potential to become a core special teamer, Allen could hear his name called in the later rounds of the draft.
Strengths
Redeemed himself after facing tremendous personal adversity
Elected team captain in both years after his return to the program
Coachable and leads by example with team-first approach
Feet are active and ready post-snap
Rushes downhill, attacking pull and iso blocks to leverage gap and do his part for the scheme
Adequate short-area burst to scrape
Consistent to sink and explode through ball carriers as tackler
Well-conditioned and doesn't fatigue easily in up-tempo conference
Comfortable dropping in space and mirroring quarterback's eyes
Soft hands with four career interceptions.
Weaknesses
Instincts need work from the middle
Misses opportunities to go gap-shooting for the tackle for loss
More race than pace in flow to the football
Runs to a spot rather than feeling the ball-carrier's intentions
Over-commits and misses potential run fits
Below-average slipping and disengaging from blocks
Missing big closing burst in sideline-to-sideline pursuit
Chomps on play-fakes and gets baited out of position
By Lance Zierlein (NFL.COM)