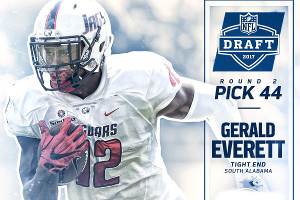 OVERVIEW
It's become a tradition for a former high school or college basketball player with limited football experience to become an intriguing tight end prospect. Everett played just one year of high school football while starting on the hardcourt, then went to Hutchinson Community College to hone his skills so major programs would find his talent. He showed talent in his only year at Alabama-Birmingham (17-292, 1 TD) but was forced to transfer after the school cut the program. South Alabama was glad to have him, as he earned first-team All-Sun Belt
notice in 2015 (41-575, eight TD) and 2016 (49-717, four TD).
ANALYSIS
STRENGTHS Slick athlete with leftover wide receiver traits. Easy acceleration into routes and can blow by safeties who sit down looking for a route break for too long. Good acceleration off of plant foot in route breaks. Can create immediate separation. Carries play speed throughout routes. Cover linebackers are usually in for a rough day vs. Everett, who eats in the middle of the field and shows no fear. Maximizes arm length for wide catch radius. Hands look fairly natural as pass catcher. Adds to totals with yards after catch. Runs physically and with excellent balance. Rips his legs through arm-tackle attempts. Instinctive runner who sets up blocks on bubble screens. Alters stride length to elude diving tackle attempts. Able to work all three levels of the field. Blocks with anger and is prone to longer engagements than most blockers on perimeter. Put on a show, including game-winning touchdown, in upset of Mississippi State on the road.
WEAKNESSES Route running doesn't appear to be high on his priority list. Routes are rounded, dull and lack urgency. Leans into most of his breaks. Talented cover safeties can jump his routes. Drifts on square-ins, allowing deep safeties a door into the play. Needs work on double moves. Could have issues playing through route redirection off line of scrimmage. Shows deceleration when locating ball on deep throws. Hands are small. Too many one-handed stab attempts on throws outside his frame limit ability to make the "wow" catches. Touchdown production lower than expected.
DRAFT PROJECTION Round 2
SOURCES TELL US "He's got all the tools. He could end up being one of the top pass catching tight ends in the league. There is question about whether he can handle a full playbook, but I think that is overblown. Cut him loose and let him make a bunch of plays." — AFC area scout
NFL COMPARISON Quincy Enunwa
BOTTOM LINE It's difficult to find a good comparison for Everett because his size and toughness are similar to Marshall's coming out, but his playing style resembles Delanie Walker at times. Everett has size, speed and tremendous run-after-catch potential, but it is his willingness and ability to block that separates him from other "matchup" tight ends. Route running is below average, but he should improve with NFL coaching. Everett has the talent to become a very good NFL starter with Pro Bowl potential if he puts it all together.
-Lance Zierlein (NFL.COM)