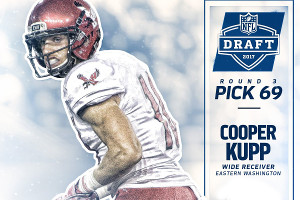 OVERVIEW
Kupp is the most prolific pass-catcher in Football Championship Subdivision history, setting all-time records in total receptions (428), receiving yards (6,464), and receiving touchdowns (73). He is the son of a former NFL player (Craig was a fifth-round pick in 1990) and grandson of a New Orleans Saints Hall of Famer (Jake was an offensive lineman in the NFL from 1964-75). He won just about every award he could win in his four years with the Eagles, staring with the Jerry Rice Award as the top FCS freshman when he started all 15 games, making 93 catches for 1,691 yards
and 21 touchdowns. As a sophomore, Kupp fought through an ankle injury but was still an All-American receiver (104-1,431, six TD), third-team punt returner (10-162, TD), and Academic All-American. He won all of those awards again in 2015, in addition to the Walter Payton Award as the FCS's best player as he led the nation in all three major categories (114-1,642, 19 TD). Kupp again proved to be the best receiver in the FCS in 2016, leading all with 117 receptions, 1,700 receiving yards, and 17 receiving touchdowns in another consensus All-American season.
ANALYSIS
STRENGTHS Elite level of production for any level of football. Finished career as Division I career leader in receptions, yards and touchdowns. Hands are natural and strong. Catches passes like his idol, Larry Fitzgerald. Plucks it away from his body and immediately tucks it away. Utilizes route speed variances to create deep-ball opportunities. Extremely confident and competitive. Bodies up cornerbacks to win contested catches. Believes he can catch every throw and is able to make the circus grab look easy at times. Excellent ball-tracker. Uses force and leverage at break points to help create room out of his cuts. Manipulates coverage with head fakes and stutter-steps. Strong football bloodlines; grandfather played for years as an NFL guard and father was drafted by Giants as fifth-round quarterback in 1990.
WEAKNESSES A little upright though his routes. Lateral quickness out of breaks underneath provide no early separation. Operated as big slot but could lack separation quickness to open clean throwing windows underneath for NFL quarterbacks. Build-up runner who doesn't seem to eat up the early cushion. Some scouts question ability to be a productive starter as outside receiver. Excessive fakes and jukes into breaks at times; will need to win with more efficient routes. Protracted gear-down getting into breaks for deep comebacks.
DRAFT PROJECTION Round 2-3
SOURCES TELL US "If he gets to a team with a good quarterback, watch out. In 2014, he punked both Marcus Peters and Sidney Jones when he took on Washington. Two first-round talents. You tell me if he's going to be a starter." — South regional scout for AFC team
NFL COMPARISON Jarvis Landry
BOTTOM LINE Utilized as a slot receiver in college but could transition outside. Produced elite numbers against a lower level of competition but saved a monster game for Washington State early in the season. He is as natural a pass catcher as you will find with desired competitive drive on each snap. His transition to NFL-level cornerbacks will take time, but he has the ability to become an early No. 3 receiver and eventual starter.
-Lance Zierlein (NFL.COM)