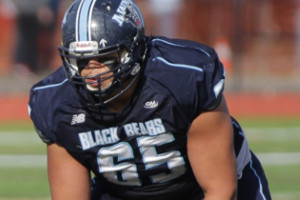 An All-South Jersey selection and summa cum laude graduate, Demby slipped through the recruiting ranks a bit to wind up at Maine. He started 10 games at left tackle as a true freshman, then did so again in 2015. He missed the 2016 season opener with a strained PCL but returned to play in 10 games, starting nine at his left tackle spot. In his final season, Demby was a preseason CAA All-Conference selection and a third-team FCS All-American before going on to play in all 10 of the team's games. Demby isn't an elite athlete, but his intelligence and ability to
punch, move his feet, and anchor in pass protection make him an intriguing prospect.
Overview
Demby is a well-built, wide-framed college tackle who projects inside to guard. He's naturally strong with some pop at the point of attack, but his ability to sustain is inconsistent due to his lack of bend and inconsistent hand usage. Demby may be more solid than good as a run blocker, but his experience at tackle and his traits in pass protection could help him stand out for a pass-heavy offense looking to shore up a leaky interior. Demby has the traits and talent to become an eventual starter.
Strengths
Started all four years
Plus muscle density in his build with broadness from chest to hips
Good arm length with big hands
Adequate explosion into fits and runs feet through contact
Will generate push when he keeps block centered
Has vision to second level
Enough agility to work hips into position on move blocks
Recognizes downhill linebackers and comes off doubles to splatter him
Stiff jab in his pass punch
Lands with heavy hands and locks it out
Features size and anchor to combat and absorb power rushers
Can redirect and recover to protect the pocket
Held up well at Senior Bowl in one-on-ones
College tackle with foot quickness to mirror athletic rushers
Weaknesses
Burly but not a bender
Can be beaten in the leverage battle
Narrow base as drive blocker
Doesn't control or sustain with snatch strength in hands
Pad level runs high causing inconsistencies in gaining ground to cross opponents face on move blocks
Below average body adjustment to second level movement
Needs lower punch point on opponent as hands can slide too high
Can get eager in pass pro and lunge forward at times
Sources Tell Us
"He definitely put himself on the map with how he handled himself at the Senior Bowl. He's a big strong dude." — AFC Personnel Director
Lance Zierlein (NFL.COM)