Player Bio
The son of long-time NFL strength coach Kent Johnston was born to play football. Two of his brothers, Kody and Kole, also played college football. But Clay's career could have been over before it really started, as he suffered severe injuries from an ATV accident entering his sophomore year in high school. However, he bounced back to become a two-time All-State pick as a defender as well as an All-State running back his senior year. Johnston started two of 13 games played as a redshirt freshman in 2016 (26 tackles, four for loss, one interception). He started eight games as a sophomore (54 stops, nine for losses) but missed time with a broken hand and torn ligaments in his foot. Johnston missed the opener of the 2018 season with a knee injury but wound up a second-team All-Big 12 pick after leading the Bears with 99 tackles (5.5 for loss). His senior season started strong (58 tackles, eight for loss, 2.5 sacks, one interception, five pass breakups in six games) but another knee injury ended it prematurely. Still, Big 12 coaches voted him second-team all-conference.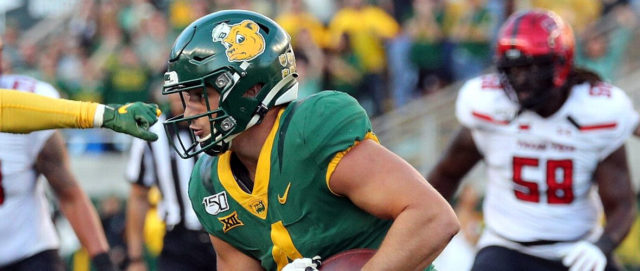 Analysis
Draft Projection
Priority free agent
NFL Comparison
Tyler Matakevich
Overview
Detail-oriented inside linebacker who needs a clean bill of health after suffering a season-ending knee injury in October. Johnston plays with a nice blend of physicality and instincts that help rack up tackles. He rarely stays blocked and does an impressive job of sifting through bodies to find the ball-carrier. He's instinctive and active in zone coverage, but speed limitations hinder his man-cover ability. The football intelligence and instincts help mitigate average athleticism and speed. Johnston could become a special-teams standout with average, three-down-backup ability.
Strengths
Compact, muscular frame with good overall play strength
Plays with patient eyes, deciphering development
Steps downhill, bringing fight to blockers and leveraging gaps
Anticipation and instincts are above average
Maneuvers through rush-hour congestion to find the ball
Mirrors ball-carrier movements and rarely gets washed away by blocks
Punches, separates and plays off blocks to stay clean and rack up tackles
Consistent catch, wrap and roll as finisher between the tackles
Works quickly from target to target in zone
Mindset and ability to thrive on special teams.
Weaknesses
Short arms and small hands
Feet don't fire off with desired level of twitch
Needs to start charting more high-impact plays
Runs himself out of position with guess from time to time
Pursuit burst doesn't have a nitrous boost
Doesn't have athletic traits allowing for much margin for error
Forward lean in pursuit brings missed tackles against cutbacks
Dealt with injuries in 2017, 2018 and 2019
Season-ending knee injury in 2019 will require medical check
Sources Tell Us
"He's just different — kind of a goofy guy. His teammates like him. I had him as a free agent before this year but he was balling before he got hurt. Maybe a (special) teams guy." — Area scout for AFC team
Lance Zierlein – NFL.COM