Player Bio
Fuller is an excellent football player and exceptional all-around student-athlete. He was a captain for the Buckeyes in 2018 and 2019. Fuller tied for the team lead with 81 tackles, 2.5 for loss, while also posting an interception and four pass breakups in 13 starts as a junior, and then garnered first-team All-Big Ten honors in 2019 (62 tackles, two interceptions, four pass breakups in 14 starts). He also started 13 games as a sophomore (70 tackles, three for loss, two interceptions, two pass breakups). The 2015 New Jersey Gatorade Player of the Year helped his high school win its first state title in 30 years and then stepped onto the field to contribute in all 13 games in 2016 (11 tackles). Fuller was a first-team Academic All-American in 2017 and created a seminar to educate Ohio State student-athletes on sexual assault, sexual violence and healthy relationships. His brother, Devin, played receiver at UCLA. His mother, Cindy Mizelle, is a singer who has performed with Luther Vandross, Bruce Springsteen and many others. The comedian Sinbad is married to Fuller's paternal aunt.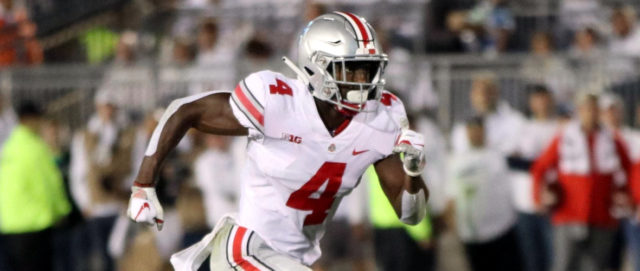 Analysis
Draft Projection
Round 7/Priority free agent
Overview
After watching his coverage struggles in 2018, it felt like Ohio State was trying to hide him as a single-high safety in its scheme. With that said, Fuller actually stepped up and had a bounce-back season protecting against chunk passing plays and supporting the run. He doesn't have the range to play single-high in the pros and is a little thin as a box safety. He doesn't lack football intelligence or toughness, but the traits and instincts fail to stand out. Fuller could compete for a backup role as a split-safety with the potential to match up with tight ends.
Strengths
Able to line up and cover tight ends
Hurries downhill to cut off angles and limit explosive runs
Agility to make quick alterations to pursuit angles
Reactive athleticism and length to wrangle cutbacks across his face
Finds his fits when playing near the line of scrimmage
Maintains depth integrity from high safety
Can track and attack downfield
Has leadership traits on and off the field
Weaknesses
Doesn't have ideal traits for either safety spot
Heavy legged backpedal
Lacks desired range and long speed as free safety
Quarterbacks manipulate him out of position with glances
Long gather-and-drive phase from the top of his drop
Gets lost at route stems in space
Showed his issues with man coverage duties in 2018
Needs to run through tackle attempts
Lance Zierlin – NFL.COM