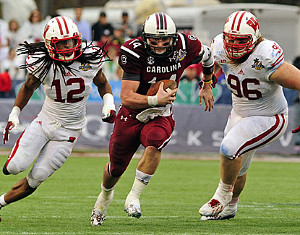 Ruolo: Wide Receiver College: South Carolina – Classe: Junior
Età: 21 – Altezza: 5'11 (180 cm) – Peso: 203 (92 kg)
PLAYER OVERVIEW
The Gamecocks' tumultuous 2015 season did not go according to plan as South Carolina missed a bowl game for the first time since 2007. But Cooper was one of the few consistent players for the team in 2015 with his Randall Cobb-type of playmaking skills.
Cooper's father disclosed to The State on Nov. 24 that his son planned to declare for the 2016 NFL Draft.
"He definitely appreciates the opportunity to play for South Carolina, and we as parents appreciate the opportunity they gave him," Glen Cooper told The State.
The South Carolina coaching staff realized early on the versatility and big-play potential that Cooper provided, as he finished third on the team with 655 all-purpose yards as a true freshman in 2013.
His success as a freshman provided just a hint of what was to come a year later when Cooper finished third in the SEC in receptions (69), second in receiving yards (1,136) and receiving yards per game (87.4), fourth in receptions per game (5.3) and ninth in all-purpose yards/game (108.5) earning First Team All-SEC honors at receiver from rival coaches and the media alike, as well as second team honors as a returner in 2014.
STRENGTHS: As his production indicates, Cooper served as a jack-of-all trades for the Gamecocks and projects as a similarly versatile player in the NFL.
Shows vision, subtle cuts and balance to absorb a hit and keep his feet, traits which will help him maintain a steady role as a returner. He's quick to the hole, wasting no time dancing and accelerates smoothly.
Cooper generally has good hands, exhibiting impressive body control and hand-eye coordination to pluck throws from outside of his frame. He appears to be more comfortable coming back toward the ball rather than tracking it over his shoulder at this time.
He was even utilized often as a wildcat quarterback in 2015 to take advantage of his versatility.
WEAKNESSES: Cooper wasn't asked to run many complicated routes in South Carolina's offense, often going in motion for quick dump-offs, quick-screens or verticals. Does not possess the elite breakaway speed that his five career scores of 70-plus yards would indicate. Not stout enough to routinely handle carries at the next level. Ball protection could be an issue.
When asked to run more intricate routes like post-corners, Cooper shows that he's still a work in progress as a route-runner, shuffling rather than exploding out of his cuts.
COMPARES TO: Randall Cobb, Green Bay Packers – Like Cobb at Kentucky, Cooper was a do-everything weapon for the Gamecocks who can create with the ball in his hands, taking direct snaps or playing on the outside.
IN OUR VIEW: Cooper is an electric athlete in the open field with light feet and creative moves to easily redirect his momentum without slowing down. And those change of direction skills allow him to separate in his routes with the speed and vision to eliminate pursuit angles. Cooper lacks ideal size and strength, but can impact the game in several ways on offense and special teams, which boosts his NFL value.