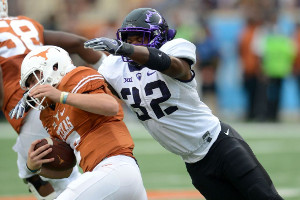 Draft Prospect Outlook:
Safety turned linebacker who uses lightning quickness to avoid blocks to get to the football. Space player who can stay with running backs in coverage. Every type of blocker can overwhelm him at times. Has some tackling issues. Will be one of the first defenders to the football due to his athleticism.
College Recap:
A three-star recruit out of Longview, Texas, Howard immediately contributed as a true freshman, appearing in all
13 games while playing defense and special teams. He led the Horned Frogs with 107 total tackels as a sophomore, including 9.5 for loss and three sacks. Howard led the Big 12 with 130 total tackles as a junior and even started at strong safety in the Liberty Bowl.
Howard played in 12 games as a senior, managing 108 total tackles (including seven for loss) on the season while returning his lone interception of the year for a touchdown against SMU. The linebacker capped off his career with four straight games with double-digit tackles, including 15 against Oklahoma in the Big 12 Championship and 10 in a win against Stanford in the Alamo Bowl.
R.J. White (CBSSPORTS.COM)